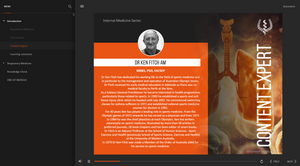 Not to be Missed! Respiratory Medicine eLearning Module
Respiratory conditions are common in athletes. Exercise induced asthma can impair an athletes performance and optimal management is vital for health and performance. This module presents information exploring common presentations, appropriate investigations and up to date management of exercise induced asthma. Medication that may be subject to doping control are also discussed.

Written and authored by the wonderful Dr Ken Fitch. Dr Fitch has dedicated his working life to the field of Sport and Exercise Medicine. He has written extensively on sports medicine, illustrated by more than 58 articles in preferred journals, 28 book chapters and has been editor of seven books.
In 1979 Fitch was made a Member of the Order of Australia (AM) for his service to sports medicine.
---